Yehualaw and Kipruto Victorious at London Marathon
In just the second marathon of her career, Yalemzerf Yehualaw overcame a heavy fall to win the women's race at the TCS London Marathon, while Kenya's Amos Kipruto made a decisive move with two miles to go to take the men's title at the World Athletics Elite Platinum road race on Sunday (2).
Yehualaw won in 2:17:26 – the third-fastest time ever achieved on the streets of London – while Kipruto's closing speed brought him home in 2:04:39.
The opening pace in the women's race was swift, as it often is on the slightly downhill section of the course. The lead pack of eight women – including Yehualaw and defending champion Joyciline Jepkosgei – passed through the first 5km in 16:01 and they reached 10km in 32:18. That early pace suggested a finishing time of 2:16:15 – well inside the women-only world record of 2:17:01 – but the tempo soon started to drop.
The same eight women were still together through 15km (48:51) and at half way, which was reached in 1:08:46. Hiwot Gebrekidan was unable to stay with the pack for much longer and the lead group was reduced to seven women by 25km (1:21:29), the pacemakers having now dropped out.
Sutume Asefa Kebede started to push the pace as the lead group embarked on the second half, with Yehualaw biding her time near the back of the pack. Jepkosgei and Joan Chelimo Melly, meanwhile, looked comfortable in the middle of the pack.
With about 10km to go, Yehualaw tripped on a bump in the road and fell hard, just as she had done at the 2020 World Half Marathon Championships where she went on to take bronze. She quickly got back up on her feet and rejoined the lead pack a minute or two later.
Melly and Ashete Bekere were next to drop off the pace, followed by Kebede, leaving just four women in the lead pack: Jepkosgei, world silver medallist Judith Jeptum, Alemu Megertu and Yehualaw. They reached 35km in 1:54:30, their predicted finishing time now outside 2:18:00, but the real racing was just beginning.
After two hours of running, Yehualaw started to increase her pace. A sizzling 4:43 split for the 24th mile broke up what was left of the lead pack, and within a couple of minutes the Ethiopian had a clear lead over Jepkosgei with Megertu and Jeptum further behind.
Showing no ill effects of her earlier fall, and running with the confidence of a seasoned marathon runner, Yehualaw continued to forge ahead in the closing stages and went on to win by 41 seconds in 2:17:26, just three seconds shy of the PB she set on her debut in Hamburg earlier this year. It's also the third-fastest time ever recorded in London, behind the world records set by Paula Radcliffe (2:15:25) and Mary Keitany (2:17:01, women-only).
"I am so happy to win here in London," said Yehualaw. "I have worked very hard to prepare for this race and to take the victory is amazing.
"I knew it was fast paced and I was aware we were on world record-breaking time at one point, but I just focused on running as fast as I could."
Jepkosgei held on to finish second in 2:18:07 and Megertu completed the podium in 2:18:32, a PB by 19 seconds. For the first time ever, six women finished in 2:19:30 or quicker.
Kipruto conquers quality field for first world marathon major
The opening pace in the men's race was more steady and consistent than the women's race, but the race unfolded in a similar fashion with a group of seven men running together through the early checkpoints. They covered 5km in 14:45, 10km in 29:26 and 15km in 44:20, suggesting a finishing time inside 2:05.
Kenenisa Bekele featured prominently in the lead pack, while defending champion Sisay Lemma held back slightly near the rear of the group. World and Olympic bronze medallist Bashir Abdi and Kenya's Amos Kipruto were also in contention.
They reached 25km in 1:13:41, still on course for a finishing time just outside 2:04 and with the same seven men still running together. At about 33km, Bekele started to fall off the pace of the lead pack, but he stayed in the race and kept the leaders in sight.
About 15 minutes later – and at roughly the same part of the course where Yehualaw made her move in the women's race – Kipruto accelerated away from the rest of the pack, opening up a significant lead within a relatively short space of time. A 4:21 split for the 25th mile proved decisive and it soon became clear that victory would be his.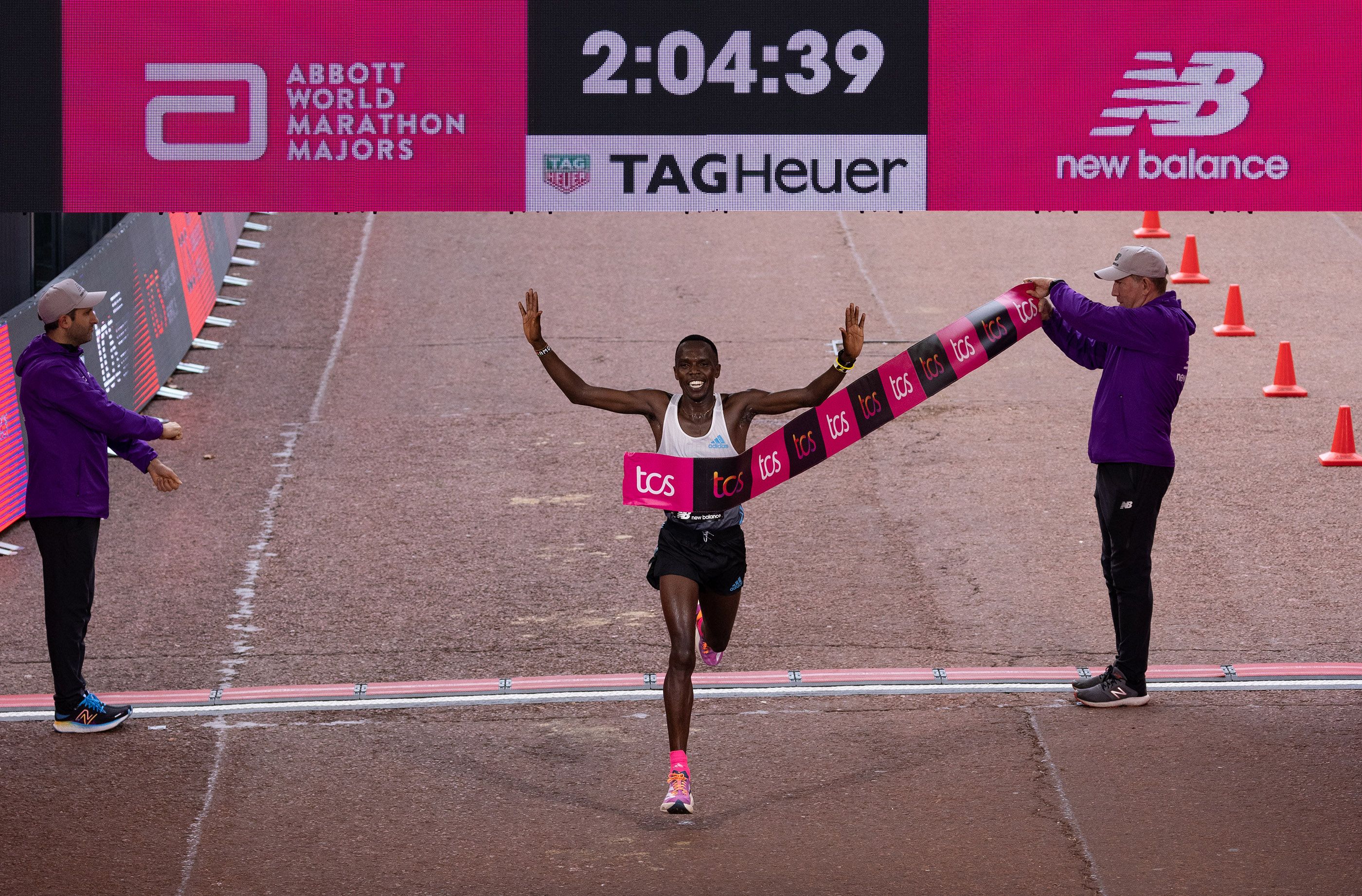 Amos Kipruto celebrates his win at the TCS London Marathon (© TCS London Marathon)
He went on to win by more than half a minute, crossing the line in 2:04:39 to achieve his first victory in a marathon major, following three podium finishes in Berlin and Tokyo in recent years. Ethiopia's Leul Gebresilase came through to take second place in 2:05:12, seven seconds ahead of Abdi.
Kinde Atanaw was fourth in 2:05:27, followed by Bekele in fifth in 2:05:53, his fastest time for three years. He also becomes the first 40-year-old to run a marathon faster than 2:06.
"This is my London debut and it's a wonderful day," said Kipruto. "I decided to make a decisive break because of my training – I was confident and I knew when to go."
Jon Mulkeen for World Athletics
Leading results
Women
1 Yalemzerf Yehualaw (ETH) 2:17:26
2 Joyciline Jepkosgei (KEN) 2:18:07
3 Alemu Megertu (ETH) 2:18:32
4 Judith Jeptum Korir (KEN) 2:18:43
5 Joan Chelimo Melly (ROU) 2:19:27
6 Ashete Bekere (ETH) 2:19:30
7 Mary Ngugi (KEN) 2:20:22
8 Sutume Asefa Kebede (ETH) 2:20:44
9 Ai Hosoda (JPN) 2:21:42
10 Rose Harvey (GBR) 2:27:59
Men
1 Amos Kipruto (KEN) 2:04:39
2 Leul Gebresilase (ETH) 2:05:12
3 Bashir Abdi (BEL) 2:05:19
4 Kinde Atanaw (ETH) 2:05:27
5 Kenenisa Bekele (ETH) 2:05:53
6 Birhanu Legese (ETH) 2:06:11
7 Sisay Lemma (ETH) 2:07:26
8 Brett Robinson (AUS) 2:09:52
9 Weynay Ghebresilasie (GBR) 2:11:57
10 Philip Sesemann (GBR) 2:12:10
-worldathletics-