World Athletics Publishes its Annual Report for 2021
World Athletics today (6) publishes its Annual Report and Accounts for 2021, a year that saw a strong return to international competition, despite the ongoing challenges presented by the Covid-19 pandemic, which added layers of complexity to the governance of global sport.
World Athletics 2021 Annual Report and Accounts
Veuillez cliquer sur ce même lien pour accéder à la version française de ce document.
Across the sport of athletics, 2020 taught us about how to adapt, be flexible, resilient, brave and creative. And this was put to good use in 2021 where the sport ended the year strongly despite the tough conditions.
Almost 11,000 athletes were able to compete in more than 100 elite competitions including three World Athletics Series events, the Tokyo 2020 Olympic Games, 12 Wanda Diamond League events and 69 World Athletics Continental Tour meetings.
In addition, about 1 million people participated in 84 road label races held in 50 countries, across all six areas in 2021. This was up substantially on the 48 road races held in the previous year, which were mostly elite events.
The organisation's efforts to protect cashflow during 2020 continued during 2021, helping to deliver strong financial results.
Revenue for the year ending 31 December 2021, without the Olympic dividend, remained stable at US$43.3m. This included committed revenues through the Dentsu and EBU partnerships, which remain secure. With the inclusion of the Olympic dividend (US$39.4m) revenues for the year rose 87% to US$83m.
Expenditure increased by 26% to US$52.6m with the hosting of more events. Almost half (45%) of expenditure focused on competition and events (US$23.5m).
Grant funding increased by 13% on the previous year as more events and activities, particularly in the areas of education and development, were able to take place but remains below pre Covid-19 levels due to the continued disruption in a number of areas, regions and countries.
Administration costs, which were supported by a generous furlough scheme in 2020, remained level at US$6.8m due to the continued efforts of World Athletics' HQ to forensically bear down on costs following a detailed review in 2019.
A large focus over the past two years has been to preserve cash to give the sport greater control and security over its own future. Aided by strong controls on expenditure, including non-event related travel which went down from US$550k to US$485k, cash for the year ending 31 December 2021 increased by 34% to US$54m.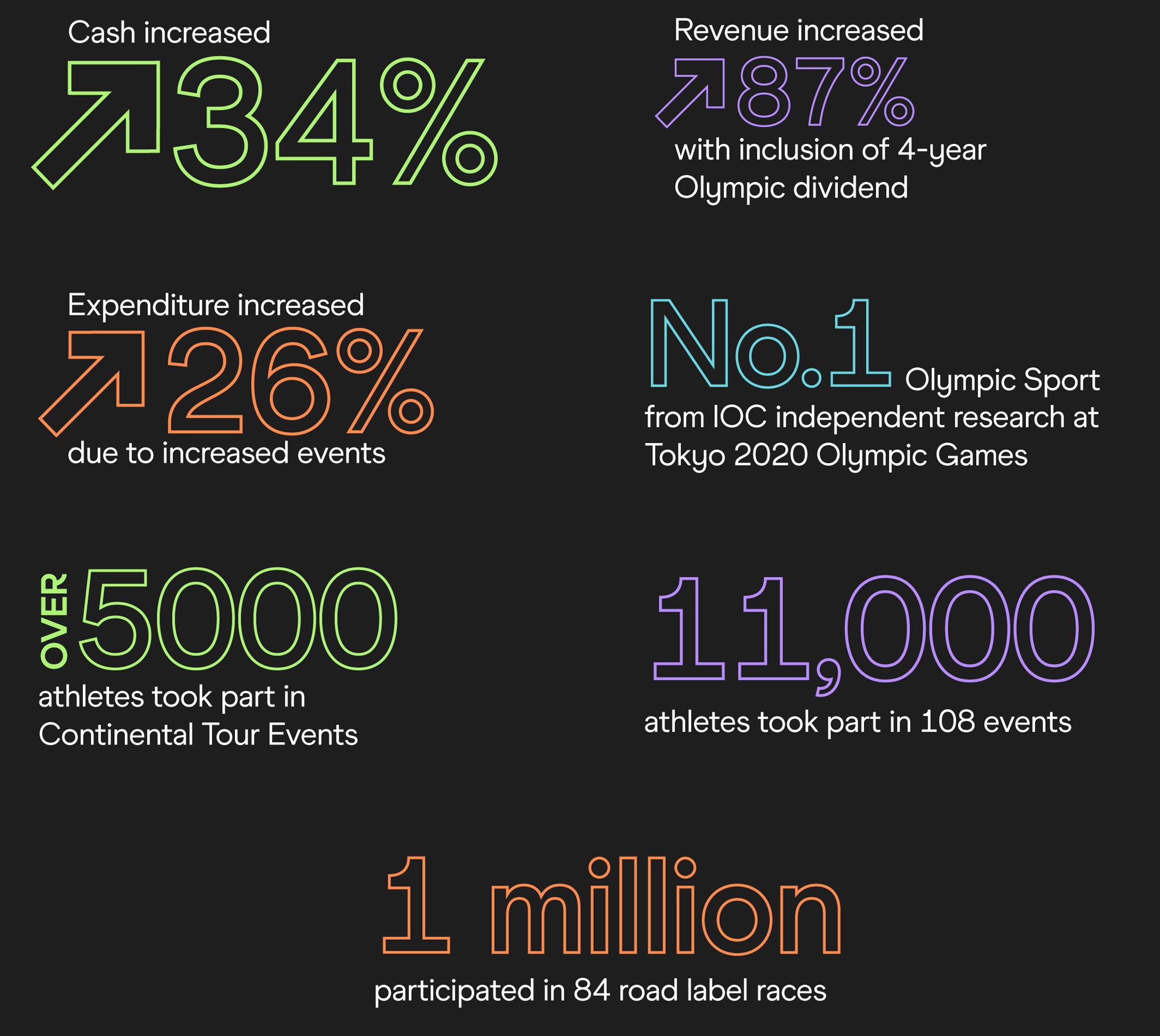 In his opening message in the report, World Athletics President Sebastian Coe said: "We were determined to keep our sport front and centre and do everything we could to maintain domestic and international events which gave the athletes the platform for the many outstanding performances we witnessed in Tokyo. The athletes rose to the occasion after many months of disruption and frustration, and did so again at the World Athletics U20 Championships in Nairobi. It was a collective contribution that saw athletics excel and crucially entrenched us as the number one Olympic sport.
"This is not just anecdotal, the IOC commissioned Publicis Sport & Entertainment (PSE), an independent agency to collect and consolidate the sport and event data from all continents. And this research showed: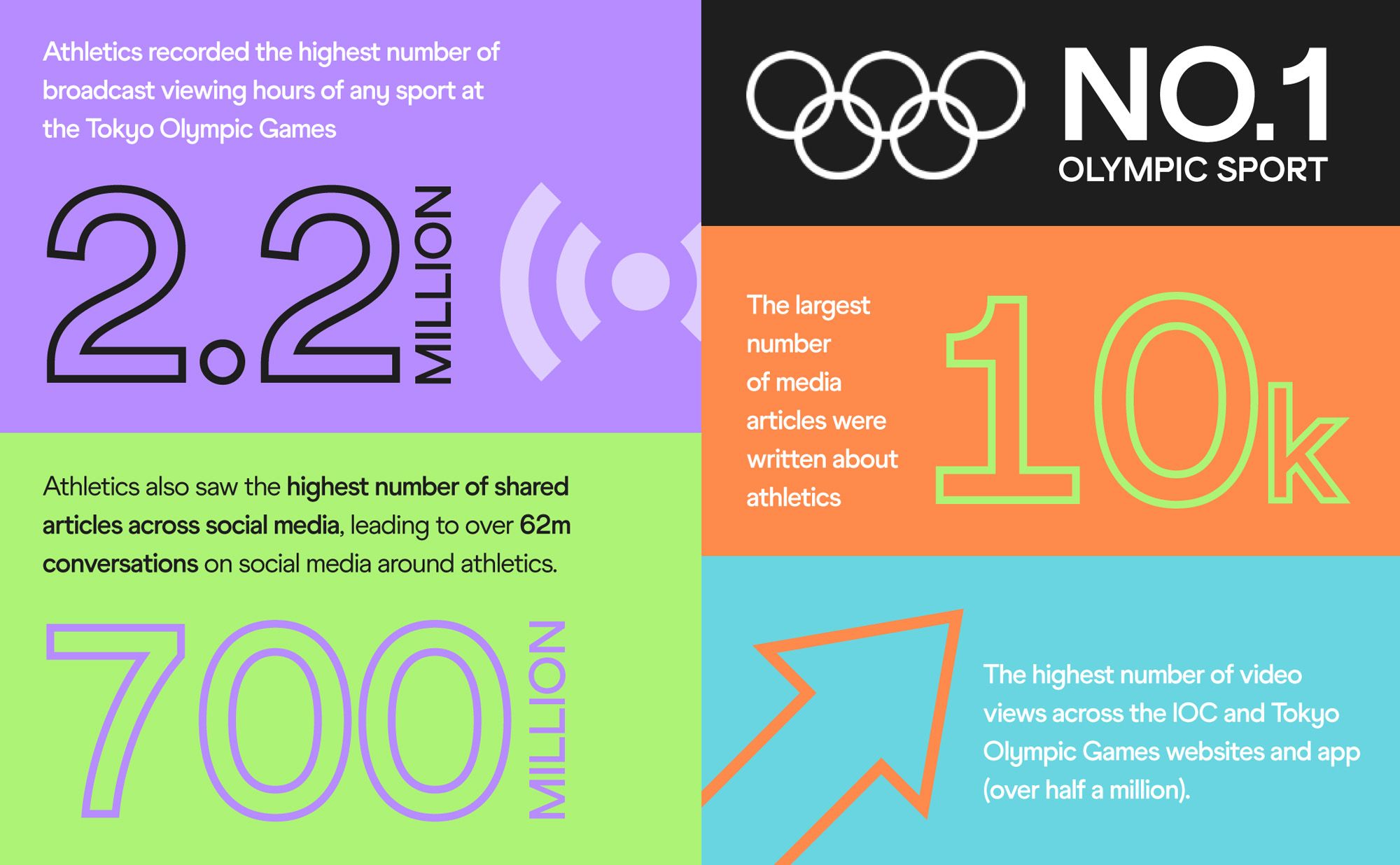 "I am proud of how we ended 2021 and knowing what we have accomplished at the half-way mark of 2022, I have never felt more confident about our sport and our ability to grow it substantially over the next few years. These are exciting times and our ambitions are high. My heartfelt thanks go to our athletes, our Member Federations, Area Associations, our HQ, our Council, Executive Board and all those who continue to inspire us and millions of participants in athletics across the world."
In a year that remained uncertain and unpredictable, World Athletics was able to deliver hundreds of events across the globe, providing athletes with a much-needed competition structure ahead of the Tokyo 2020 Olympic Games and focus on our core pillars for growth (participation, people, partnerships and fans) as well as fundamentally important areas to protect our athletes, the planet and grow our sport federation by federation through to 2030. Some of the highlights include:
The athletes' prize money for the World Athletics Championships has been increased by US$1million. For the 2022 and 2023 editions this will be covered by World Athletics through investing the sanction fee from the RusAF suspension and reinstatement process. Future World Athletics Championships organisers starting in 2025 will be responsible for the US$8 million prize money required.
A worldwide survey into athletics (the Global Conversation) was launched during the year, receiving more than 25,000 responses from people connected with the sport in 178 countries around the world. These responses, together with detailed feedback from our Member Federations, contributed to the development of the World Plan for Athletics 2022-2030 that was approved by Congress on 17/18 November 2021.
As the state of global health and the planet continues to be debated and monitored, we launched our new Kids' Athletics programme as a way for Member Federations to work alongside governments, health authorities and schools to encourage children from 4-14 years old to participate in sport in fun and engaging ways.
With the return of events, World Athletics also signed an extended and enhanced media rights partnership for all top-tier World Athletics Series events with the European Broadcasting Union which will run from 2024 to 2029 with 29 EBU members already confirmed.
Great strides were made during the year across all social media platforms, culminating in a 73% increase in followers, with TikTok contributing one million new followers, making World Athletics the number one followed TikTok account in sport. World Athletics' social media fanbase rose to 7.1 million across the year and the website recorded 13 million users. Media coverage generated during the year had a reach of 6.4 billion people with a strong proactive communications plan leading into the Tokyo 2020 Olympic Games
The World Athletics Continental Tour was successfully completed in 2021 with record broadcast coverage and audience data. World Athletics is also maximising opportunities to improve and accelerate the World Athletics digital rights.
In March 2021 the Council agreed on the establishment and membership of a Safeguarding Working Group, which was set up in June, to assist HQ with the further development of its sport wide Safeguarding Policy. A World Athletics Safeguarding Policy was produced and approved by the Council at its meeting in Tokyo in July 2021 and published on the World Athletics website and can be found here. World Athletics and its members believe that a consistent, robust and well communicated policy which is adoptable by all Member Federations and, in turn, their members, will ensure that everyone involved in the sport feels safe, valued, protected and able to speak out, be listened to and challenge poor practice.