How to become a distance Kenyan champion
www.athleticshour.com | Kenya | Marathon | Distance | Champion | Eastern Africa | World Athletics |
Kenya has produced several of the world's best distance runners over numerous generations. How to become a distance Kenyan champion.
Meanwhile, many athletes from across the world have attempted to decipher Kenya's success as they try to catch up – literally – with the east African nation that continues to produce global medalists and world record-breakers.
Kenya's domination in distance events is the result of a number of reasons. It's because of a variety of factors, many of which were discussed during a recent visit to the NN Running training camp in Kaptagat, approximately 24 kilometers east of Eldoret, where competitors like Eliud Kipchoge train for 11 months a year.
A way of life
Few countries can claim to have a population that lives and breathes athletics, and where football, the No. 1 Olympic event, can fill entire stadiums even for age-group championships.
While Kenya isn't the only place in the world where children run vast distances to get to school, for many Kenyans, running has a whole other meaning.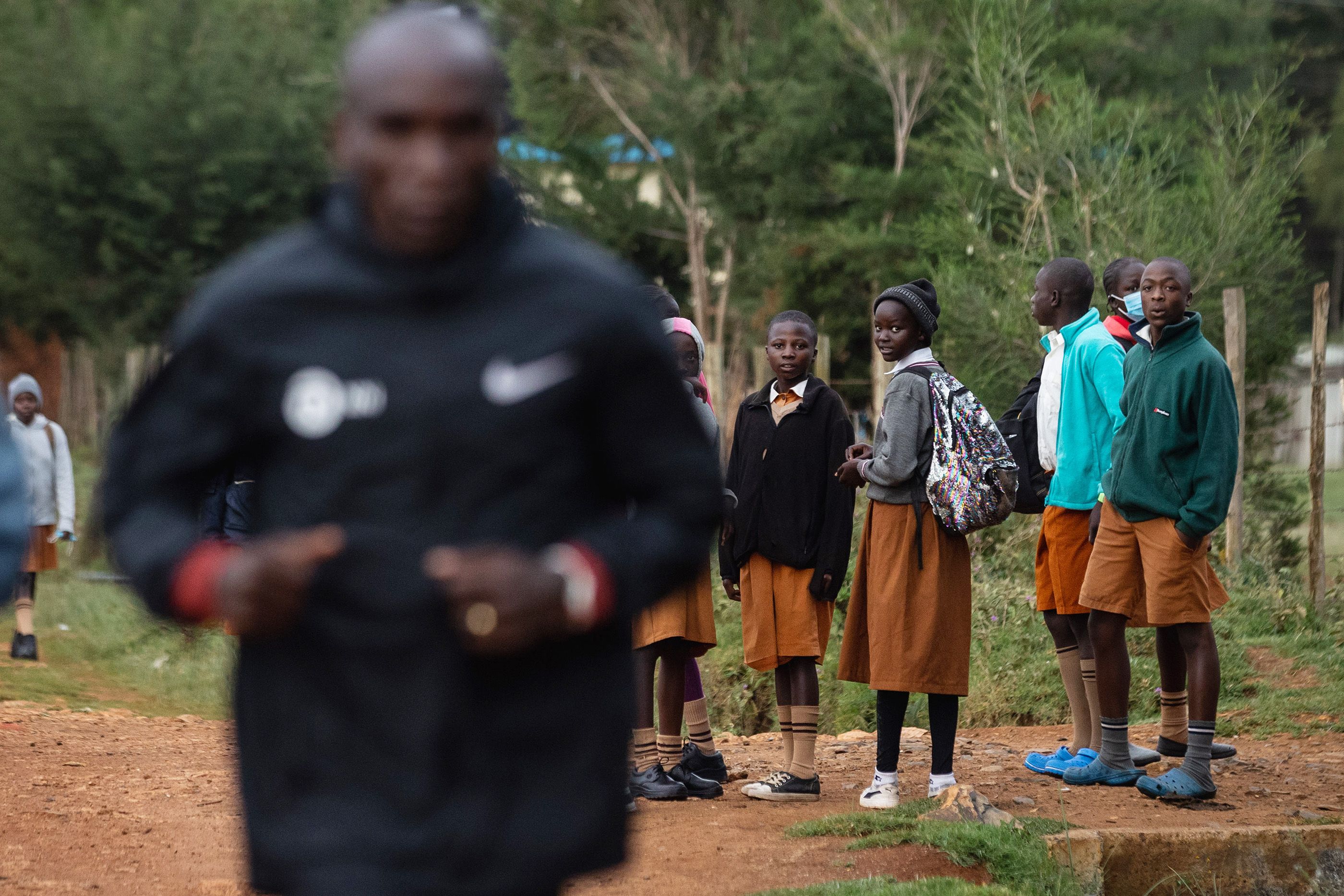 Local school children look on while Eliud Kipchoge runs past (© Dan Vernon / NN Running Team)
"Running is something that comes naturally to us as it's something that has been part of our lifestyle since we were born," says three-time world half marathon champion and two-time New York City Marathon champion Geoffrey Kamworor. "As a kid, I used to run from home to my school three kilometres away back and forth each day, so you end up running sometimes 12 kilometres a day as a teen without even realising it."
Beyond being a means to an end, there is also a genuine love for running among the Kenyan population.
"As a kid, I would always go and watch athletics competitions when not at school and I enjoyed watching people competing," added Kamworor. "It awoke my passion for running, especially seeing people cross the finish line and winning a trophy. In high school, it was always a fun and proud moment to represent your class and win a cup. I found it very encouraging."
Having running embedded into day-to-day life sets Kenya apart from many other nations. But it's just one of the many reasons why it is known as being the 'home of the champions'.
Genetics
Everyone does not become a world-class athlete by simply running to school every day. Genetics, like it does for every exceptional athlete, will almost certainly play a role.
The Kalenjin tribe is home to many individuals in Kenya's Rift Valley, including the majority of the country's top distance runners. Kalenjin people are generally described as having good natural running traits, such as slender physique and long legs, when compared to other Kenyan tribes.
Kipchoge, for example, isn't particularly tall (1.67m / 5ft 6in), but the muscles on his legs are incredibly lean, his body fat percentage is low, and the strength in his feet make it appear as though he bounces along the grass.
But attributing all of Kenya's success to just their genetics would be a gross over-simplification.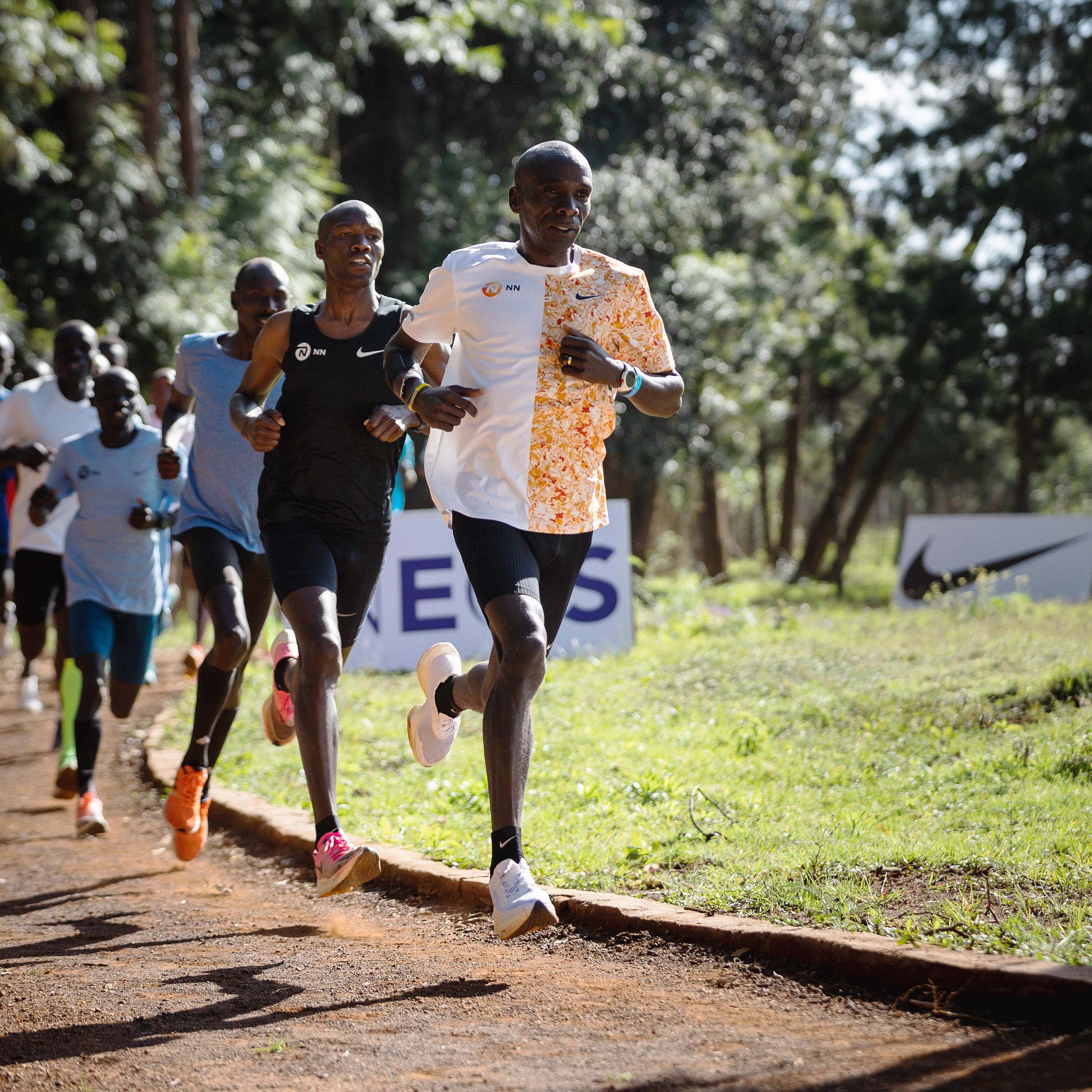 Eliud Kipchoge during a track training session (© Dan Vernon / NN Running Team)
Conditions
Another element that helps Kenyan athletes in their training and preparation is the unique climate and surroundings in this part of the country. It also probably explains why there are so many training camps between Kaptagat and Iten, and why some people refer to it as the 'Hollywood of elite runners'.
This region is located at 2500 metres above sea level, which, given the lack of oxygen, helps athletes produce a higher concentration of red blood cells and haemoglobin when training. This, in turn, gives runners an advantage when they return to lower altitudes to race.
The Eldoret region is also full of endless forests and dirt roads for athletes to use when running, while the area also enjoys a temperate climate with daytime temperatures ranging between 22-26C throughout the year, dropping to 10-12C at night time. That, combined with the good air quality, makes the area something of a distance-running paradise.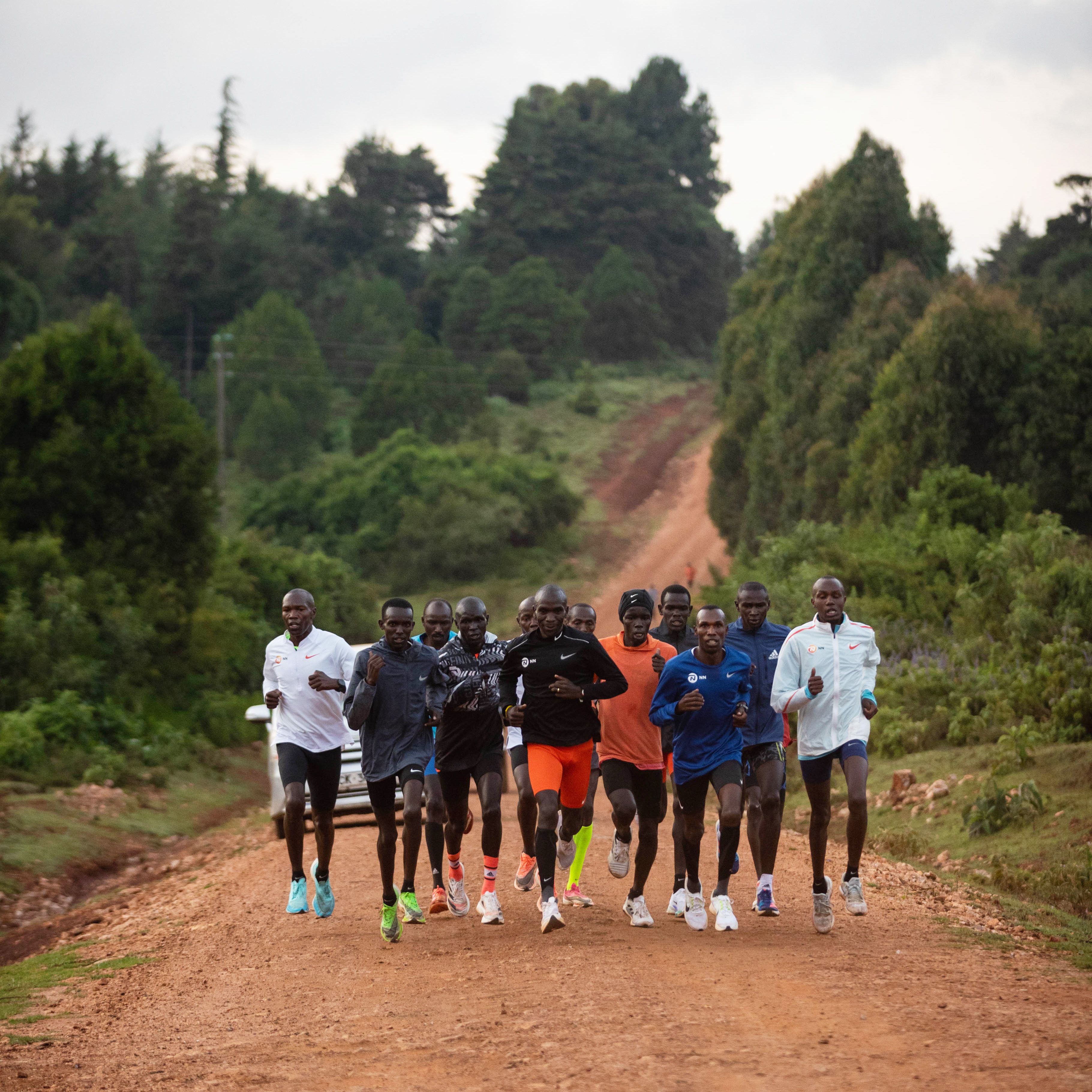 The NN Running Team on a training run (© Dan Vernon / NN Running Team)
However, as Kenya's economy grows, so does the economy of the surrounding villages and region, which means that many of the local dirt paths are being converted into proper roads – which is great for facilitating transportation and access from other parts of the country, but less so for athletes looking for a run-friendly surface.
Athletes are adapting well to this evolving environment, though, while remaining in close contact with nature. The Kalenjin community, Kipchoge and Kamworor included, are running many tree-planting initiatives. "We evolve in a very natural environment which is a great advantage when it comes to training," says Kamworor.
Patrick Sang, the 1992 Olympic silver steeplechase medallist and head coach at the Kaptagat training camp, explains how the new generation of running shoes can help counter the effects of running on harder roads.
"New running shoes help a lot because athletes can now do a lot more training on a hard surface and still recover on time to do their next hard session," says Sang. "Overall, you can get more work done to help improve performance."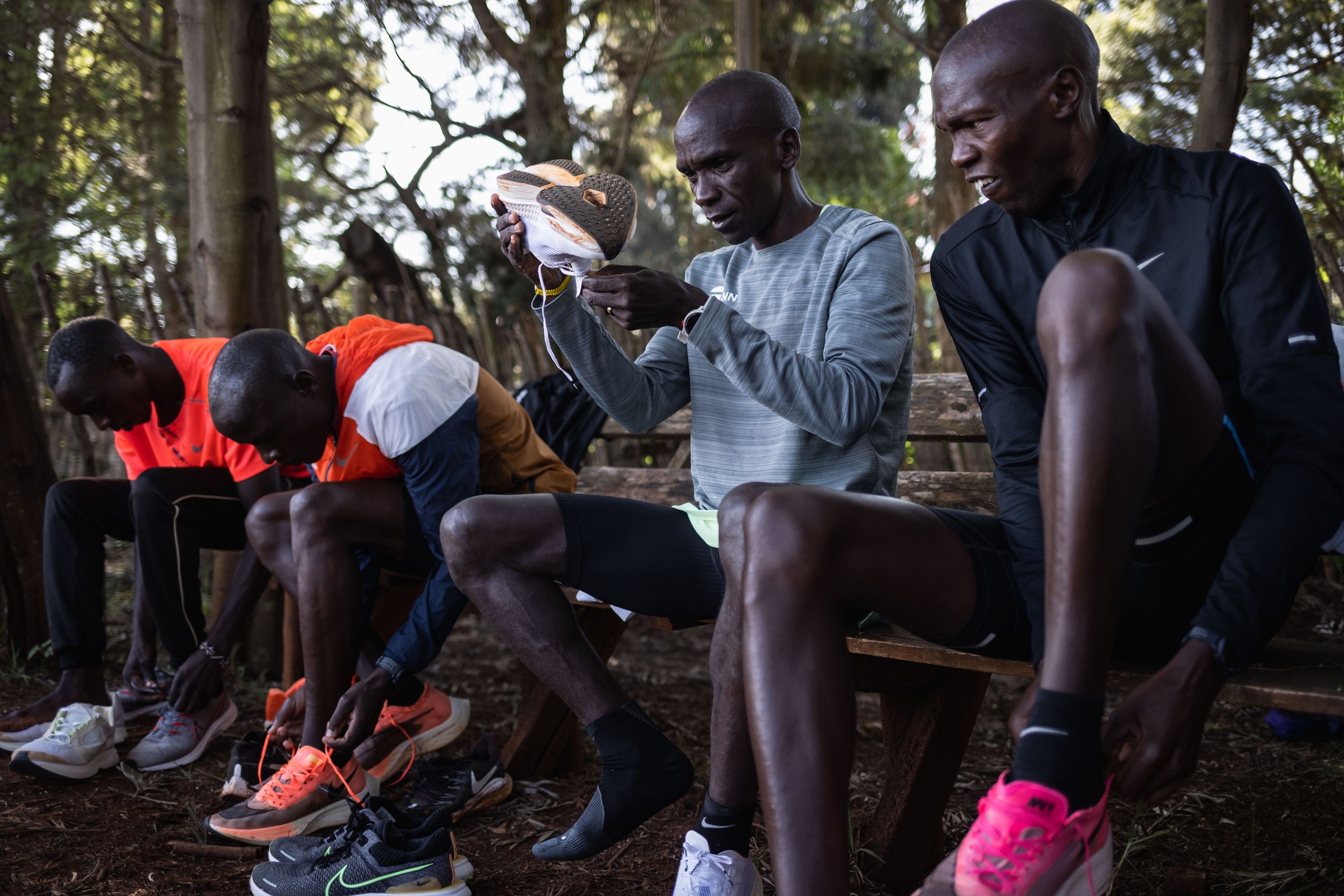 Athletes prepare for a training session in Kaptagat (© Dan Vernon / NN Running Team)
Sleep, eat, train, repeat
Most world-class athletes are completely dedicated to their sport, but the best runners at the Kaptagat training camp take it to a new level.
Many of these athletes, especially young moms like Faith Kipyegon, a two-time Olympic 1500m winner, have children who are at home during the week so they can focus totally on their training at the camp.
"Of course, it's very hard but that's the only way to be fully dedicated to being the best athlete you can and avoid any distraction," said Kipyegon.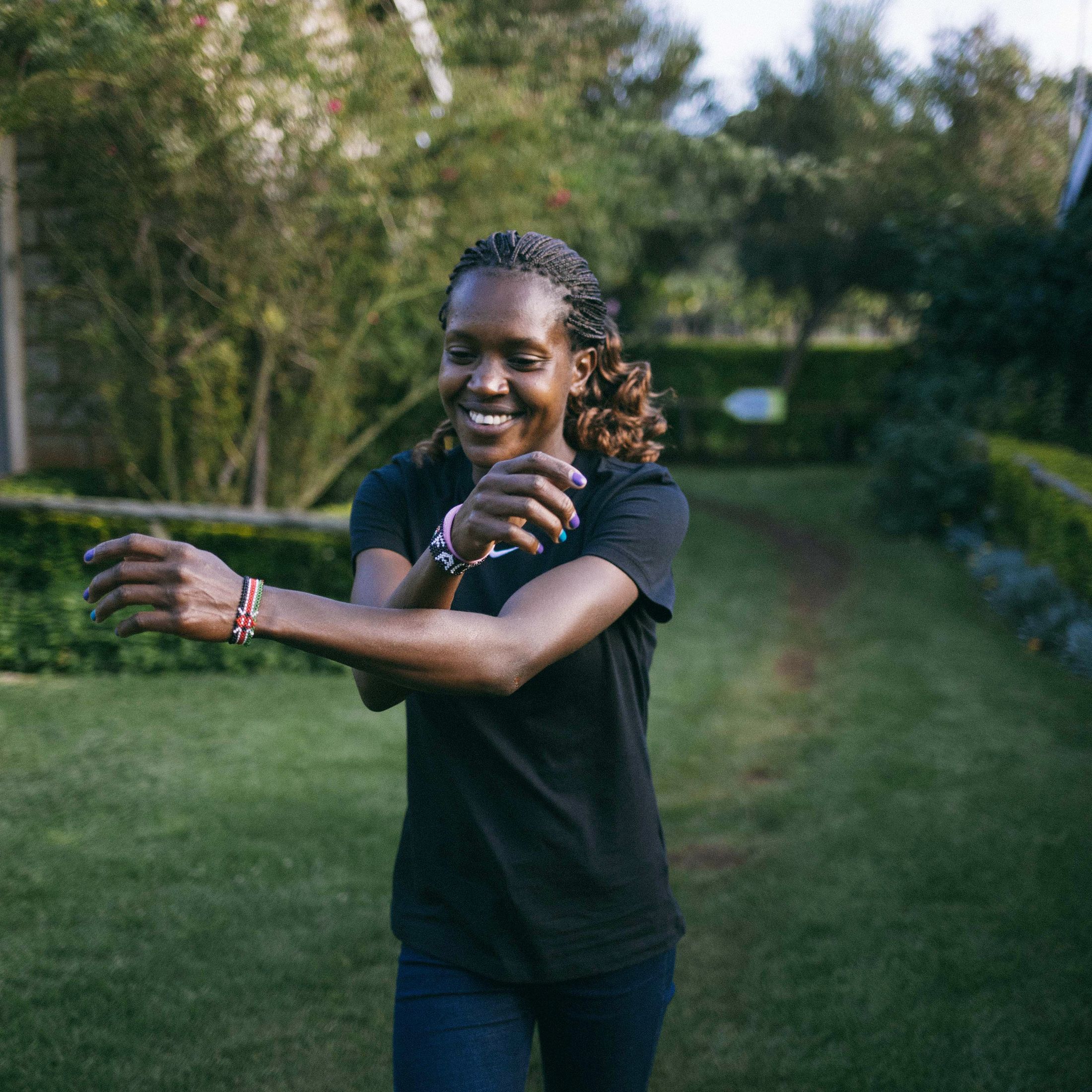 Faith Kipyegon at the Kaptagat training camp (© Dan Vernon / NN Running Team)
When not running, athletes at the Kaptagat training camp are focused entirely on other elements of their training, namely recovery and nutrition.
"When you are at the camp, your sole focus is on running and you are not distracted by anything else," says Kamworor, father to five children, including young triplets. "You are away from your family, your wife and your kids during the whole week, and that makes you take your training very seriously as you are making sacrifices to achieve your goals. That's the only way to be focused 100% on running and to give your very best."
As in any walk of life, hard work and having the right mind-set are key to success. Kipchoge might be the most successful athlete at the camp, but Sang says that's not just down to his talent. "Eliud isn't the most gifted athlete within his training group but certainly the most dedicated," Sang says of Kipchoge, who is always the first one ready for training and the last one to leave.
In an average week, athletes at the Kaptagat camp do one long run of 30km (once a month it will be 40km), which usually takes place early on a Thursday morning. Typical track sessions, meanwhile, would be something like 8x1600m (each rep completed in 4:40) and 8x400m (at an average of 65 seconds) on their local 380m cinder track.
"Have you seen him?" Sang says when watching Kipchoge train. "This guy is a machine."
Athletes are religious in their approach to punctuality and producing their best effort in training. And other local athletes from outside the NN Running team are welcome to join in the sessions, provided they arrive on time. After all, no one wants to be playing catch-up with the likes of Kipchoge and Kamworor.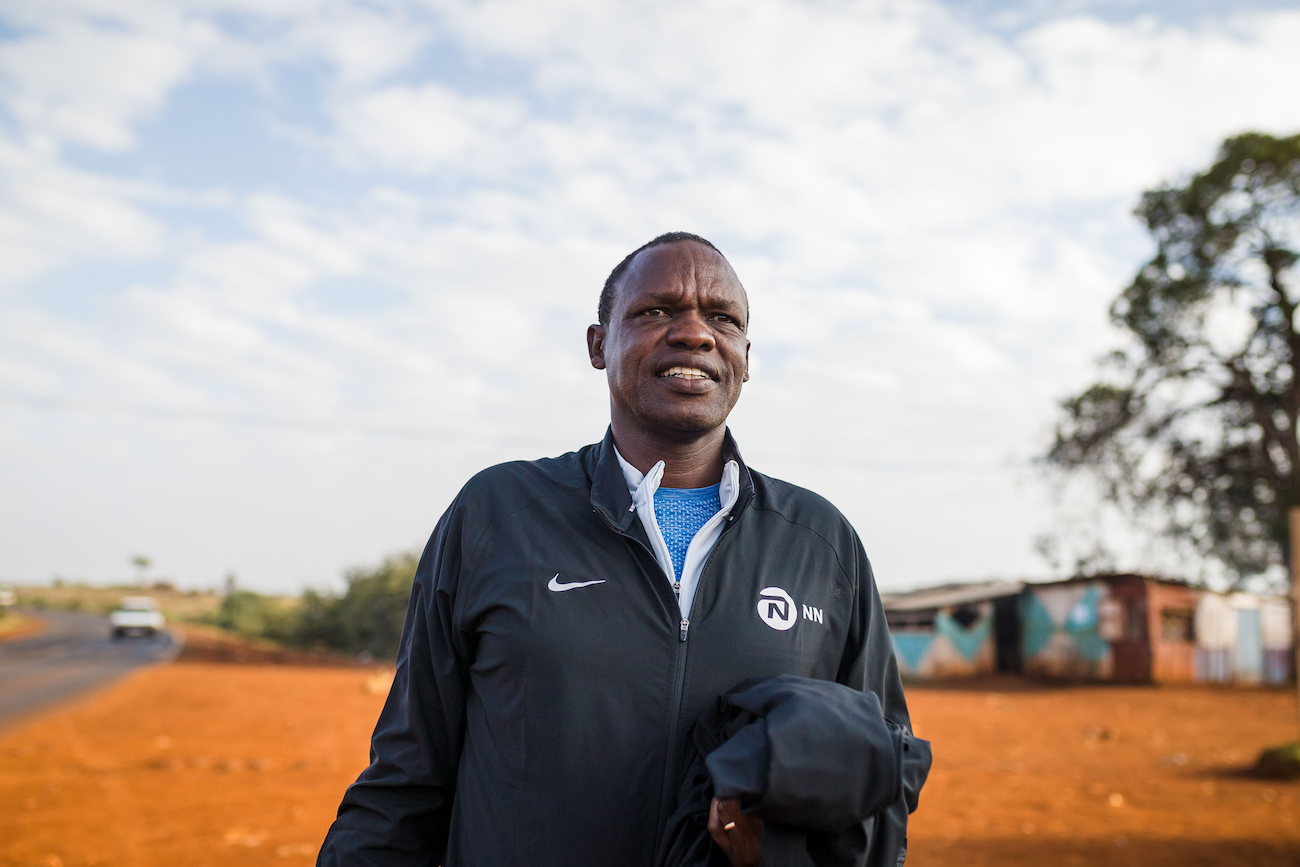 Patrick Sang (© Dan Vernon / NN Running Team)
Community
The Kaptagat training camp is administered solely by the 25 athletes who live there for 11 months a year, from Monday to Saturday morning, before returning to their families in Eldoret. The resident athletes participate in everything at the camp in and around the 12 training runs they conduct each week.
"If you look at life at the camp, the one making bread is an athlete, the cleaning is done by the athletes, the one doing shopping for the camp is an athlete," says Sang. "You don't want athletes to live on another island.
"The whole idea is to make sure these athletes become well-rounded people. You wouldn't want to help someone become a great athlete who lacks social skills or is out of touch with society."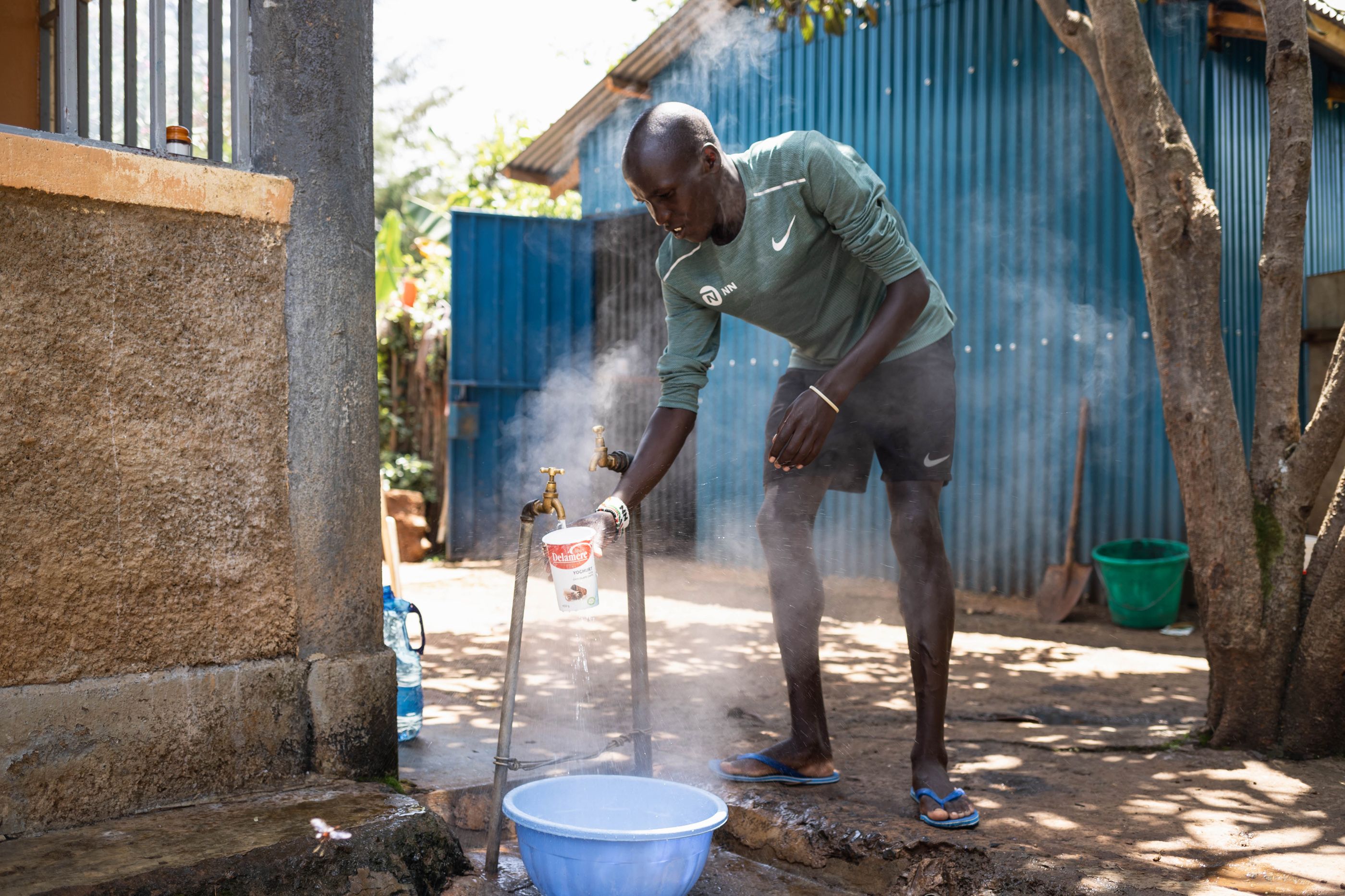 Life at the Kaptagat training camp (© Dan Vernon / NN Running Team)
Kipchoge, whose wife and three children live just 45 minutes away from the training camp, could easily go and spend time with his family during his time off, but instead he chooses to stay at the camp with the rest of the group, monastically isolated from the rest of the world.
Kipchoge is rarely bored, too. When he's not training or resting, he will be reading or working at the camp.
The sense of community extends to caring about the environment. Every athlete at the camp gets a tree planted at the entrance as a welcome gesture and to symbolise their connection to nature. Some special guests to the camp – including Ethiopian legend Haile Gebrselassie – have also had a tree planted for them in Kaptagat.
Occasionally, athletes at the camp will give each other lessons, or they will engage in real debates around serious issues, helping them develop holistically as people.
Simplicity
Far away from the latest technological innovations you often hear about in other parts of the world, daily life at the camp is basic.
Upon entering the gates at the Kaptagat training camp, the 380m cinder track is located on the left. It has a slight incline on the first bend and a couple of cows as spectators, but it meets all their needs.
"A synthetic track isn't needed for what we do and the way we train," says Marc Roig, a former international runner from Spain, who now works as a jack of all trades for NN Running, acting as a fitness coach, physio, runner, mentor and pacemaker. "If our athletes need a synthetic track, they can go to the one in Eldoret an hour away." In fact, there are just four synthetic tracks in the whole of Kenya, but it's clearly not a barrier to producing top athletes.
The runners at the camp rarely lift weights or spend time stretching, but twice a week they will do core strength sessions. Instead of water, they drink mursik – a nutritious fermented milk – in the morning and Kenyan tea in the afternoon. And not a single drop of water during their 30km long run. "That's okay," says Sang. "They don't need it."
Within the camp itself, there is a TV room with a small library corner with a few books there for the athletes, a living room for their meals, the dormitory (one for women and another for men), a basic gym comprising a bike, a treadmill, some elastic bands and a light weightlifting bar (with maximum 40kg available) and a big blue plastic drum outside used for ice baths.
It's all quite rudimentary, but they don't need more, and it seems to work.

Selly Chepyego at the Kaptagat training camp (© Dan Vernon / NN Running Team)
The only visible 'luxury' – aside from the eco-friendly solar panels to get hot water – is that Kipchoge has his own bedroom. But even the king of the marathon does his fair share of the chores. He prepares tea for other athletes, and there's a strict cleaning schedule that all athletes must stick to.
"I think that when you stop leading a simple life, your mind-set loses contact with the outside world and you lose your focus on your actual goals," says Kipchoge. "At this point, you run the risk of forgetting about the really important things in life."
Nobody complains about how simple life is in the camp. Indeed, it is their simplicity that distinguishes them and allows them to maintain their concentration while remaining humble about who they are, where they came from, and why they are here.
Hollywood of running
To be the greatest, you need to be surrounded by the best, which is why the Rift Valley continues to generate champion athletes.
Kipchoge, Kamworor, and Kipyegon are definite A-listers, but Kaptagat is brimming with excellent athletes who have placed on the podium at major championships and important city marathons.
.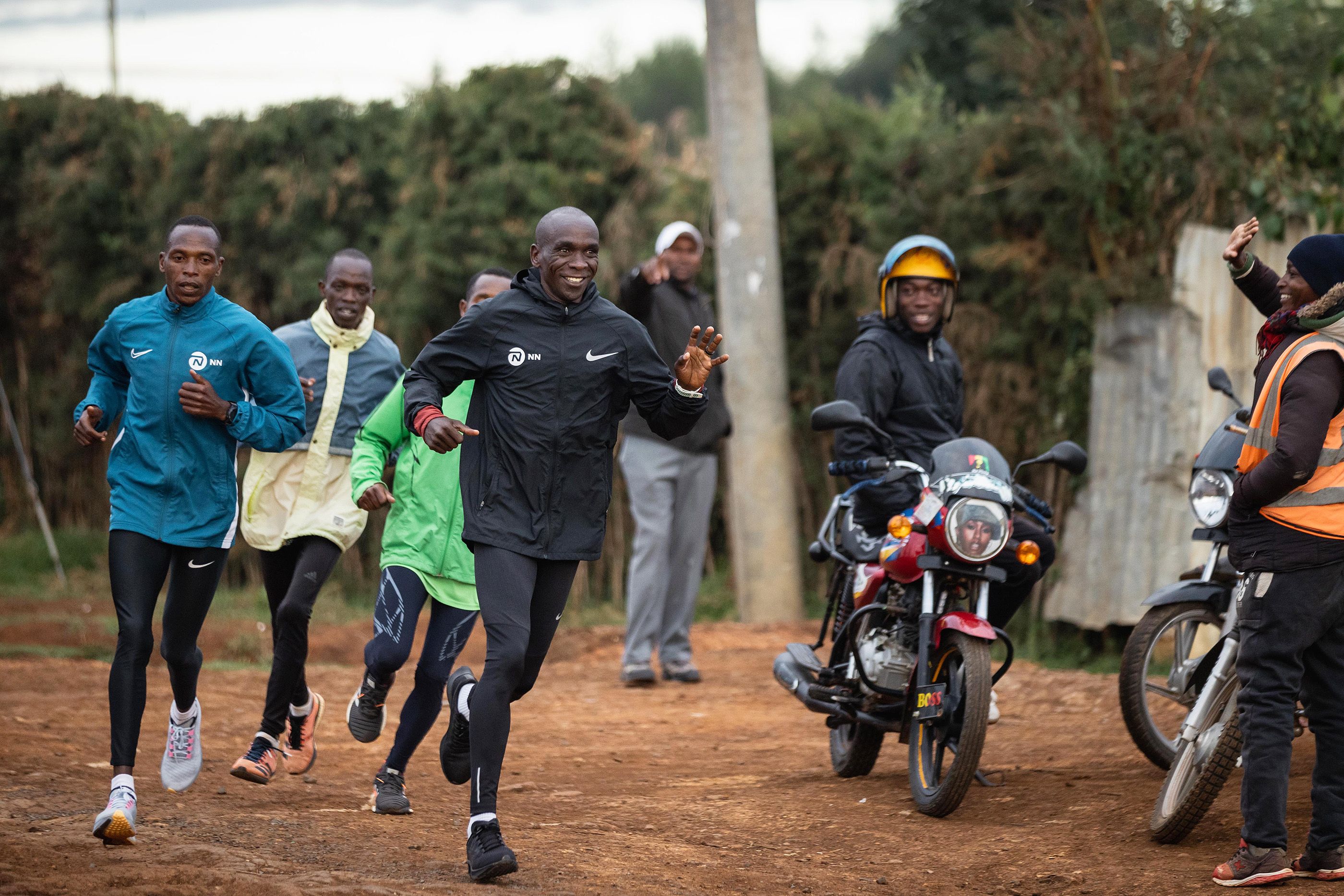 Eliud Kipchoge and his training partners run through Kaptagat (© Dan Vernon / NN Running Team)
Roig, who has a 2:18:05 marathon PB, moved to Kenya several years ago. "When I take my kids to school, I feel ashamed saying I am a runner as many of the dads there have 2:05 marathon PBs," jokes Roig, who is now the race director for the Valencia Marathon. "There is even a mother at the school who has a PB similar to mine!"
But the Kaptagat camp isn't the only leading training venue in the area. Iten, a small town at 2400 metres above sea level about an hour north of Kaptagat, is often referred to as the 'home of champions' or the 'Hollywood of distance running'.
One of the drivers used for NN Running Team's trip to Kenya, for example, was a former 1:06 half marathon runner. His wife, meanwhile, was a 2:21 marathon runner who finished second at the Rotterdam Marathon a couple of years ago. His neighbour is Emmanuel Korir, the Olympic 800m champion, and he is good friends with Joyciline Jepkosgei, the multiple world record-breaker and 2021 London Marathon champion. Abdi Nageeye, the Olympic marathon silver medallist, also happened to be in Iten at the time of the trip. While ferrying around members of the media, the driver passed by a gas station named 'Oslo', which is one of many local businesses owned by Vivian Cheruiyot. The 2016 Olympic 5000m champion opened the station after winning at the Oslo Diamond League meeting.
The High Altitude Training Centre, founded by multiple world half-marathon champion Lornah Kiplagat, who is part of a successful family of runners that includes Sylvia Kibet, Hilda Kibet, and Susan Sirma, is one of the largest training facilities in Iten. Many international athletes have stayed there in the past, including Mo Farah and Paula Radcliffe, and former steeplechaser Bob Tahri of France founded his own training center in Iten a few years ago.
The Rift Valley – Iten and Kaptagat in particular – is like nowhere else on earth. Everybody knows a champion who is friends with another champion, who is the neighbour of another champion.
It's yet another way – and one of the many – of becoming a great runner.
Source: Loic Malroux for World Athletics