Deborah Acquah Jumps A New Season Best At Texas
Deborah Acquah Jumps A New Season Best At Texas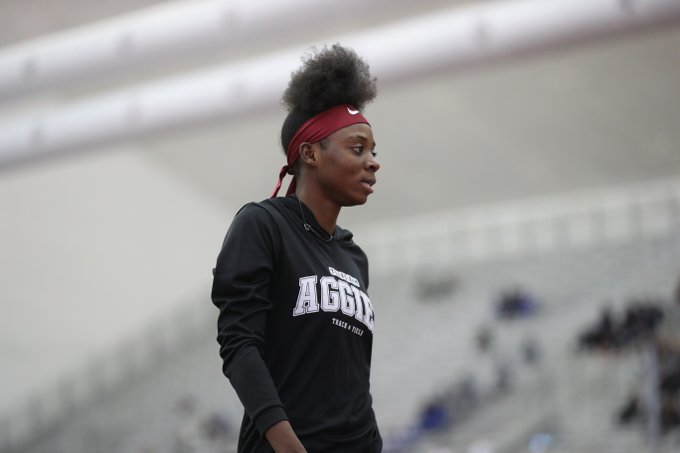 www.athleticshour.com | Deborah Acquah | Ghana Athlete | Long Jump Record Holder | Texas A&M University | Aggie Invitational | 
Ghana's long jump record holder Deborah Acquah has bettered her indoor season best in long jump at the Texas A&M Aggie Invitational. She won the event in a mark of 6.47m (21-2.75).
The Aggie Invitational indoor event took place at Bryan-College Station, TX on Saturday, January 22, 2022.
Acquah is Ghana's long jump record holder and last year she mixed just an inch of the Tokyo 2020 Olympic Games Qualification Standard. She also broke a lot of meets and school records in 2019, 2020, and 2021 seasons.
Bettered her season best long jump winning with a mark of 21-2.75/6.47m. @zeedenisee equaled her season best finishing third at 19-11/6.07m. #GigEm pic.twitter.com/e3V1iIUD5X

— Texas A&M Track & Field/Cross Country (@aggietfxc) January 22, 2022
Leading results
1
Deborah ACQUAH
Texas A&M [SR]
6.47m
21-2¾
2 (1)

 SB 

2
Ingeborg GRUENWALD
UTSA [SO]
6.22m
20-5
2 (2)

 PB 

3
Zhane SMITH
Texas A&M [SR]
6.07m
19-11
2 (3)

 SB

4
Emma SEETOO
TCU [FR]
5.73m
18-9¾
1 (1)
5
Brianna BRAND
Houston Baptist [FR]
5.58m
18-3¾
2 (5)
6
Meike VERDAASDONK
Houston Baptist [FR]
5.53m
18-1¾
2 (4)

 PB 

7
Paige LEMONIA
Texas A&M [FR]
5.50m
18-½
1 (2)
8
Maren WILMS
UTSA [SO]
5.48m
17-11¾
2 (6)
9
Jacie DRODDY
Texas A&M [SO]
5.42m
17-9½
2 (7)

 SB 

10
Danielle SPENCE
UTSA [SR]
5.33m
17-6
1 (3)
11
Monique WALKER
Northwestern St. [SR]
5.31m
17-5¼
2 (8)
12
Tasheba PLEASANT
Houston Baptist [JR]
5.24m
17-2¼
1 (4)
13
Shelby SMITH
Sam Houston [JR]
5.12m
16-9¾
1 (5)
14
Jaslyn SMITH
Northwestern St. [FR]
5.07m
16-7¾
1 (6)
15
Shaynea REDMOND
Sam Houston [SO]
5.05m
16-7
2 (9)
16
Lanaye KEYS
Houston Baptist [FR]
4.88m
16-¼