Bagbin's new look causes a stir as Parliament starts its session
Bagbin's new look causes a stir as Parliament starts its session
Source: Kenneth Awotwe Darko
If the contentious E-Levy had been reintroduced to Parliament today, it might have been the only thing separating the House, because the Speaker's new costume has universal favor among MPs.
Speaker Alban Bagbin wore more indigenous clothing on opening day on Tuesday, instead of his typical ceremonial attire.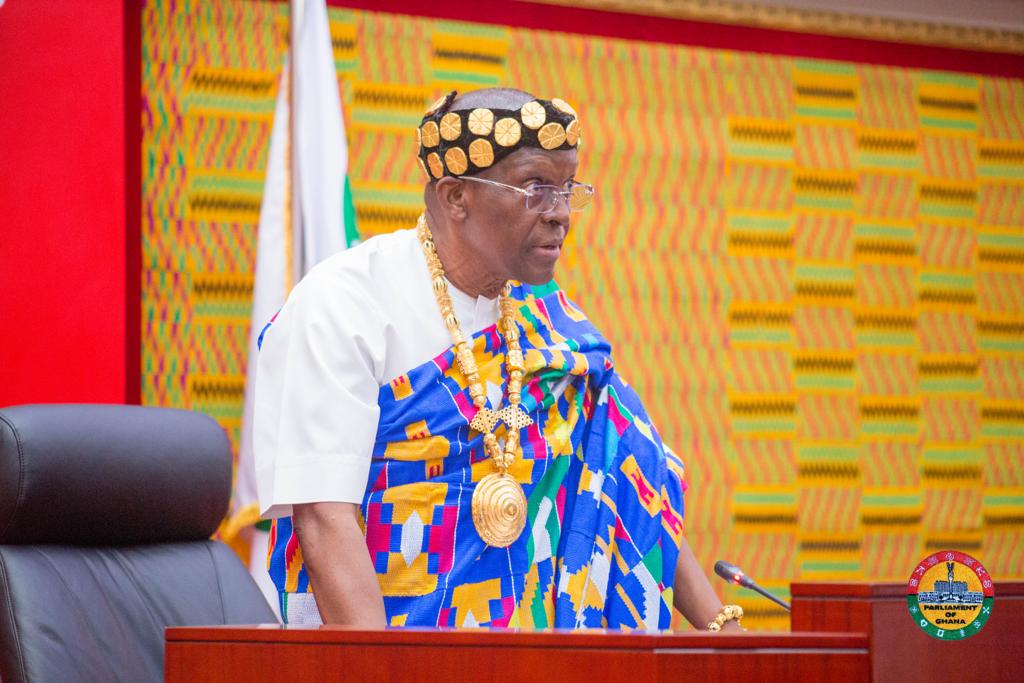 The move was difficult to notice for social media users who had been greeted by this rapid alteration.
READ ALSO
Mr. Bagbin indicated a few weeks ago that he would only use the Speaker's cloak for ceremonial purposes this year as part of his resolve to reform the MPs' dress code and code of behavior.
Mr. Bagbin has kept his promise as he dazzles in a Kente cloth.
https://twitter.com/etv_ghana/status/1485986002875437058?s=20
King of Ghana's parliament Bagbin 1 pic.twitter.com/0gMFZ6QDQl

— Eben Brown (@BrownBo10140453) January 25, 2022
He was seen today in his place, clad in kente cloth over a white lace shirt and a crown, regulating the House's session.
The ensemble appears to be characteristic of the attire worn by Ewe chiefs at important traditional ceremonies.
"From now on, I want to see our members appear in parliament decently adorned in traditional dress," he said to the agreement of the house.
Rockson-Nelson Dafeamekpo, a South Dayi MP, has previously praised the speaker as radiant.
The Radiance of the King: the new look of the Rt. Hon. Speaker, the Hon. ASK Bagbin.

Welcome sir pic.twitter.com/LUnvIMJwU5

— Rockson-Nelson Dafeamekpor, Esq. MP. (@etsedafeamekpor) January 25, 2022
"The Radiance of the King: the new look of the Rt. Hon. Speaker, the Hon. ASK Bagbin," he wrote on Twitter.
Here's how some Ghanaians on social media received the new look.
Alban Bagbin has followed with his promise not to wear the ceremonial robe again

This is how he showed in Parliament today😍

Your Speaker,My Speaker👏#Parliament pic.twitter.com/x84Jhui5Kn

— 3ka abafie #BlackStars (@_danielsackitey) January 25, 2022
Speaker of Parliament, Rt. Hon. Alban Bagbin goes traditional.
This is the first time a speaker under the 4th Republic is conducting official business in the chamber with a traditional outfit other than the usual gown pic.twitter.com/hJpFy7aV6g

— Nana Fapimso 👊 (@pnorvinyo_17) January 25, 2022
True to his words not to wear the ceremonial robe again, this is how Speaker Alban Bagbin showed up in parliament today. pic.twitter.com/ajg3iaFFlk

— Kwaku Asante (@kwakuasanteb) January 25, 2022
Alban Bagbin is really chopping his Speakers hip. Ebeii.🙂🙂🙂

— Godfred Akoto Boafo (@eastsportsman) January 25, 2022
Efo on his seat… Parliament sits 😂 pic.twitter.com/Y8oZJREqF7

— 3.142(π) (@lips_pi) January 25, 2022
Speaker Alban Bagbin returns to the House in a costume you may not have seen any Speaker in before. He had said he would only wear the cloak on special occasions. Today, he's dressed like a chief pic.twitter.com/lfJbXj9u1h

— Cowboy Journalist (@UmaruSanda) January 25, 2022